Men's Hair Loss Causes
Hair Loss Causes and Reasons for Male Balding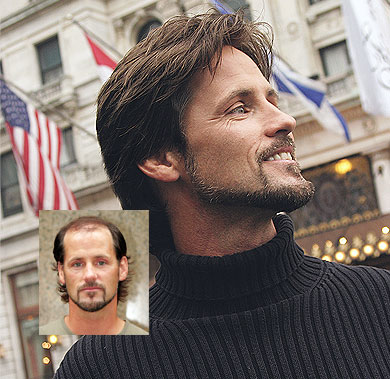 Men's Hair Loss Causes – Male Pattern Baldness
When it comes to Men's Hair Loss, throughout history men have always feared getting older and not because of age but rather the likely hood they could start losing their hair. Before their were product treatments like Rogaine or hair transplant procedures there was little someone could do but take the approach like Julius Ceasar who grew out his hair in the back of his head and combed it forward to conceal his hair loss.
For most men who suffer with thinning hair or baldness it is brought on but a condition known as "Androgenetic Alopecia". It is believed that over 95% of men with hair loss have it because of this condition. The term is probably better known for many as male pattern baldness, and it is called that because the baldness that takes place follows a pattern.
At Hair Systems International in Worcester, Massachusetts our male hair loss replacement solutions are designed specifically to each individual and their particular needs as it relates to their hair loss. We have hair technicians and stylist that design each hair restoration solution for and individual's unique needs to the end result is undetectable to sight and touch.
Only the finest human hair is used in our male hair replacements and each one is created to match your age appropriate specification and is customized to meet your lifestyle demands.
Common Causes of Male Hair Loss
For many men losing their hair is a fact of life. While male pattern baldness may be the cause of it for most men there are other possibilities that can cause hair to thin and it is usually part of a persons genetic makeup.
Alopecia Areata: Thought of as an autoimmune disorder, it can cause patches of hair loss in areas around the scalp.
Alopecia Totalis: This is a total hair loss from the scalp area, (an advanced form of alopecia areata).
Alopecia Universalis: This is a hair loss that happens over the entire body, (an advanced form of alopecia areata).
What Hair Systems International Offers You
At Hair Systems International it is our commitment to providing you with the latest and most advanced hair replacement and hair restoration solutions possible.
While for many hereditary hair loss is the most common, there are numerous other reasons for it that include skin disorders, trichotillomanis (hair pulling disorder), and medical causes like those used to treat cancer. Regardless of the reason for your hair loss, we will work with you to find the absolute best solution just for you and your hair loss type.
Let's Get Started!

Hair loss and thinning hair can be emotionally traumatic and affect how you see yourself and how you react to others. For over 40 years, we have been helping men and women restore not only their hair, but also their confidence.
Whether you are experiencing thinning hair and want to stop your hair loss, or want more hair, we offer the latest clinically proven hair loss treatment and hair restoration solutions for men and women of all ages and hair types.
We want to help you find the hair loss solution that is right for you. Fill out our form to get started with your free, private consultation.
Get a Free, Private Consultation