Hot Men's Hair Styles: Summer 2017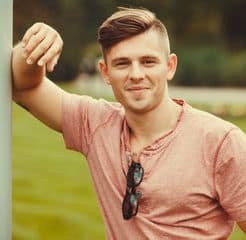 The Textured Top
Sometime the best way to change up your look is not a wardrobe redo, but simply a new haircut. Over the past few years the trend has been clean and slick, but now the trend has moved on towards a more messy and free-flowing hair style.
There are lots of different looks that can be created with this look, which is why this hairstyle is catching on. There are some similarities between the different implementations such as keeping it trimmed shorter on the sides and back, or a fade into the longer hair on top with point-cut with scissors for an uneven, nicely-textured look.
Long Hair Style
Male models have sported longer hair for a long time now. The look has even grown in pop culture (think actors like Kit Harrington who portrays the long-haired Jon Snow in Game of Thrones). Hair products have improved greatly and now give more volume and bounce than ever. As men get better at using products, they will continue to let their grow longer.
The Throwback Style
What goes around, comes around, and that saying that holds true for the boy band hairstyles that were big in the 1990's and have now re-emerged in a comeback. It is likely we will continue to see the trend of the parted brow-length fringes grow in popularity.
Color That Hair
For a very long time now, women have colored their hair for a new look, or maybe even to just cover up darker or gray roots. As the times have changed, so has the trend for men to add a little color to their hair. Take Adam Levine of Maroon 5, who took his dark brown hair and went platinum. It is quite likely we will see more bold colors emerge, and as it becomes the new norm.
Over the past few years, beards have become a more popular and acceptable look for men in the office. Bold hair color is on the same path of acceptance for men. While it may not be for everyone, if you're looking to try a change in your look, try getting your hair bleached for a big change, or even try adding color later if you want to go bolder.
If you'rer looking to make a change in your appearance, your hair goes a long way to making a striking change. And if you're worried about men's hair loss or thinning hair, then we've got answers for you that will not only restore your hair, but your confidence as well.
There are plenty of trendy hairstyles out right now, and no matter which you go with, you are sure to make a big difference. Many men and women feel that their hair is a part of what makes them attractive. Going with a trendy hairstyle or hair color can be fun and give you a stylish look you want.